To say my craft closet has gotten away from me is a massive understatement. There is absolutely no method to the madness and if I plan on making April my month of sitting behind the sewing machine (as big as a whale) and sewing as many projects for Austin and Emma as I can, I better develop a plan of action now. I am a fabric junkie and figured sorting through my heaps of different prints was a great place to start the new organization system.
This is my inspiration for the project.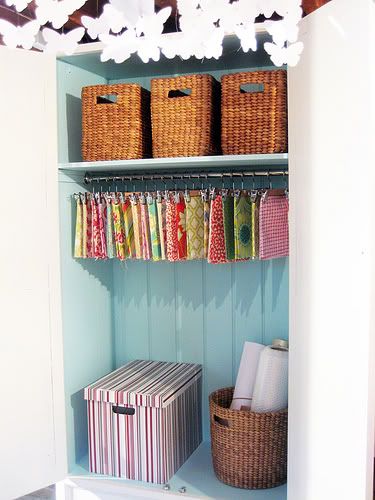 I would love my closet to read more as a "design center", if you will. Ridiculous, I know. I can think of nothing more inspiring than opening those doors and seeing all my fabrics neatly hung and ready to be used. Plus, I think that when they are actually hung up I will be able to see that I don't need to buy PLAID FABRICS in EVERY COLOR POSSIBLE just because they are 50% off at Joann's. Or do I...



Beautiful isn't it? I am still going back and forth on which colors to use on the shelving or back wall. I'm thinking I might paint the walls in a honeysuckle (it is the color of 2011, or so I've been told) and paint the shelves a crisp white. I might even be silly enough to make two large bulletin boards to look like wallpapered panels for the inside of the closet doors. I can tack up my projects and anything else that is exclusively MINE on the doors. I think this is a project that I will tackle after I have Austin because I have a feeling I am going to be extremely particular about it and it could save Brandon lots of eye rolls when I start micromanaging. He has been great with all the projects I have asked him to do lately and I would hate to kill our streak with asking for an entire weekend's worth of work to decorate my pink craft closet. We all have our limits.

I think a simple closet rod and a few hangers will be a great starting point.

Here is my before. Talk about rock bottom. How embarrassing. At least there is nowhere to go but up!

inspiration photos from here.